Glow It - Skin Supplement - 1 Month
Regular price
Sale price
€35,00 EUR
Unit price
per
Sale
Sold out
The one off. Get your hands on one months supply of Glow It. That's 30 capsules - our recommended daily dose is 1 capsule a day. Get glowing with Glow It, the perfect addition to your beauty routine. 
Share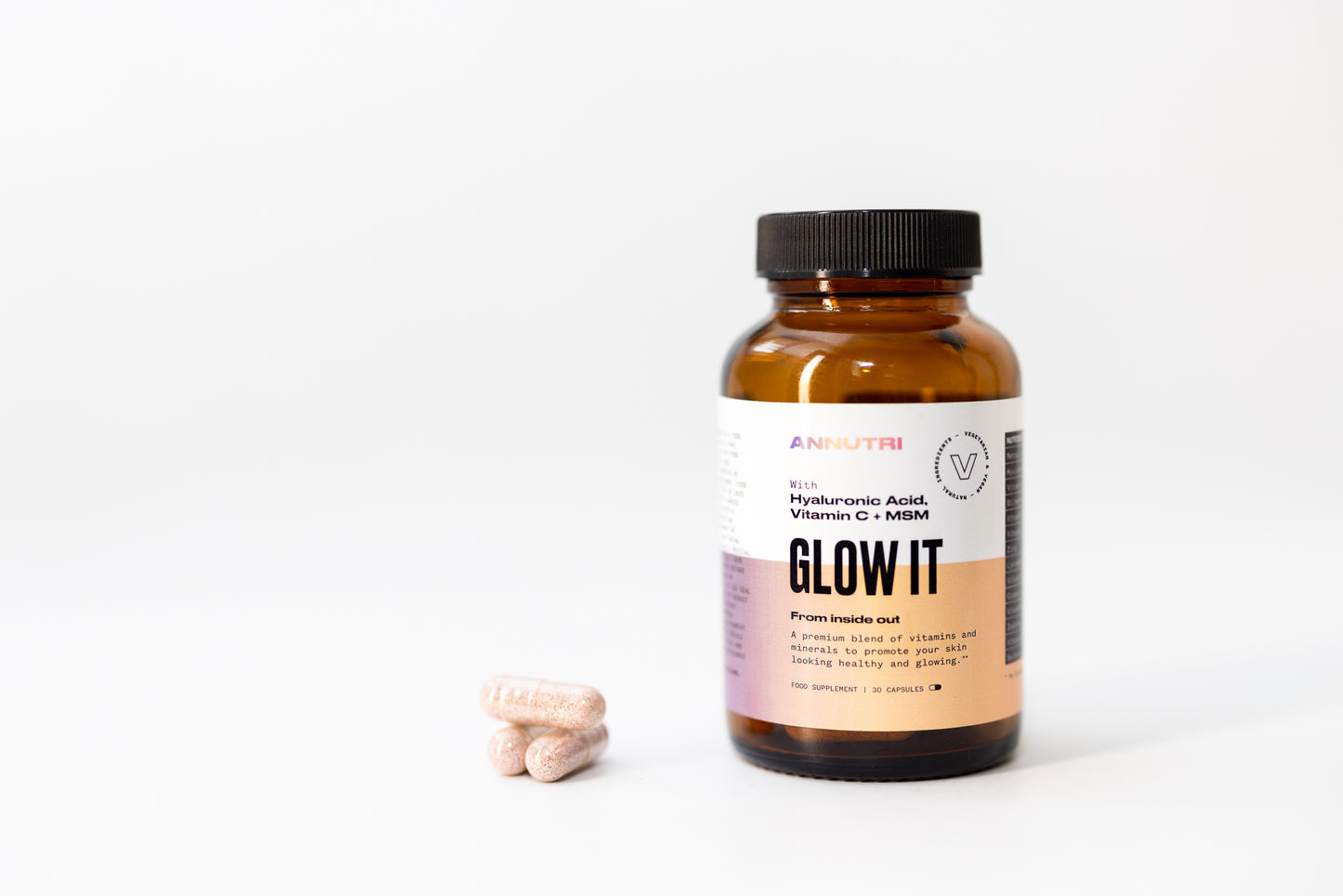 Take Glow It for more radiant, beautiful and glowing skin.
This is beauty, from the inside out.

Taking MSM may help with crow's feet and skin firmness, tone, and texture of your skin. MSM plays a major part in the body's ability to produce collagen. As an essential ingredient in tissue to hold the human body together, collagen provides structural support and impacts the flexibility and resilience of skin.
Hyaluronic acid helps your skin stretch, increases flexibility and reduces skin wrinkles and lines. Hyaluronic acid may also help wounds heal faster and can reduce scarring.
Glow It contains Hyaluronic Acid with MSM so its a potent formula of two essential nutrients for healthy joints and cartilage. This combination can fortify every tissue of the body, with larger concentrations in connective tissue and skin.
Taking hyaluronic acid MSM in capsules is known to absorb through the digestive tract and travel to the relevant connective tissues.
So go on - take Glow It for more radiant, beautiful and glowing skin. Your skin will thank you for it.
Our most frequently asked questions
Glow It has been formulated to not only increase antioxidant uptake, but also to add a few amazing skin-enhancing ingredients.
GLOW IT is the perfect solution for anyone looking to nourish and protect their skin from the inside out.
If you are taking any medication or have any medical conditions, you should consult with your GP before using it. Additionally, this product should not be used if you are pregnant or lactating.
Glow It is a revolutionary blend of vitamins, minerals, and herbs designed to promote healthy skin from the inside out. Each bottle contains a month's supply of just one capsule a day, packed with powerful antioxidants to help protect your skin.
Do not exceed the recommended dosage unless directed by a healthcare practitioner.
We don't recommend taking them while pregnant or breastfeeding unless directed by a healthcare practitioner.
Glow It contains a blend of vitamins, minerals and other nutrients which is suitable for most adults. However, we recommend that you check with your healthcare practitioner if you are taking prescribed medication.
Please check with your healthcare practitioner or Nutritionist who can check the amounts of overlapping nutrients in other supplements you may be taking and tailor the advice to suit your overall needs.
We're proud to say that Glow It is made to the highest quality in Ireland so it's always fresh.
Yes, both men and women can take Glow It. The blend of Hyaluronic acid and anti-oxidants in Glow It helps to tighten older skin and reduce acne in younger skin. The ingredients in GLOW IT are specifically chosen to help nourish and protect your skin. MSM is an organic sulphur that can benefit all skin types and ages and is known to be highly effective in treating conditions such as acne, eczema, and psoriasis.
Hyaluronic acid helps with skin stretch and flex, reducing wrinkles and lines, and can also help wounds heal faster and reduce scarring.
Yes, we purposely set out to create a premium product that is suitable for Vegans.
No we deliberately avoided using fillers.
We don't recommend this supplement for under 18's.
AMAZING PRODUCTS
After having such success using Grow it, I decided to try Glow it. Well, I've never been so impressed with a product til now. Everyone compliments me on the 'glow' and freshness of how my skin looks these days. These tablets are by far the best of what's out there.
It does exactly what it says on the jar 😍
I initially didn't notice myself but so many of my clients were complimenting my skin and I hadn't technically been looking after it only taking the glow it vitamin. Onto my second jar and couldn't recommend enough
Skin Glow
I have been taking these supplements now for roughly six months and already I see a difference. My skin isn't as dull as it was and it's more clearer in appearance. I buy 30 capsules per month and won't ever stop taking them. They are great!
Glow It - Skin Supplement - 1 Month
LOVE LOVE LOVE
I've been using 'Glow It' for months now and I definitely have seen improvement in the texture and look of my skin. It's firmer and looks plumper. It looks like I drink a liter of water a day now!! So glad this product exists and is very affordable :)