Grow It - 1 Month
Regular price
Sale price
€32,00 EUR
Unit price
per
Sale
Sold out
The one off. Get your hands on one months supply of Grow It. That's 60 capsules - our recommended daily dose is 2 capsules per day. Get growing with Grow It, the perfect foundation to encourage stronger, longer, thicker hair. 
Share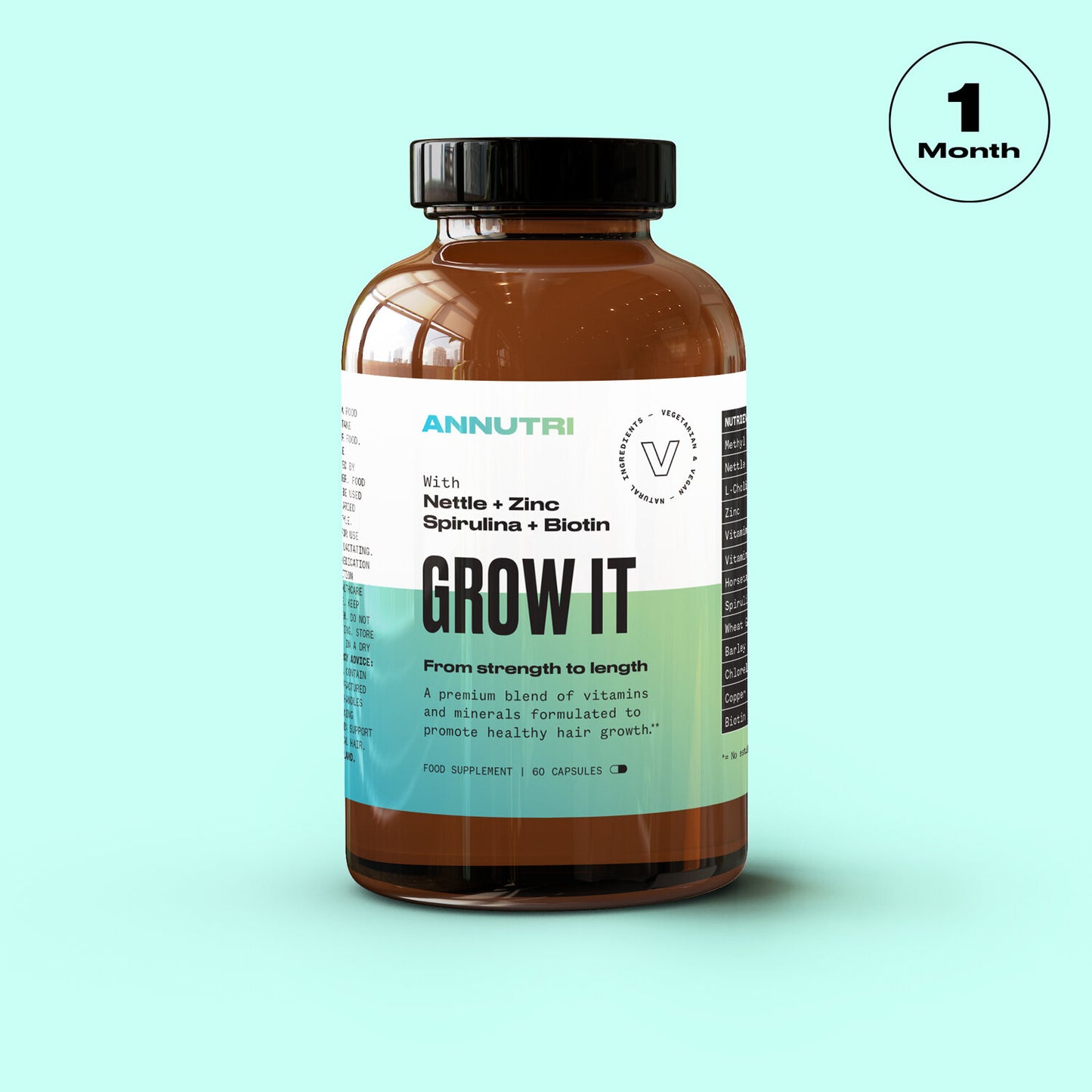 Our most frequently asked questions
Grow It supports healthy hair growth and maintenance from the inside out. We have put together a unique, powerful blend of nutrients to help hair grow stronger.* Many are also noticing other health benefits including healthier skin and nails*.
Click here
for more information on the individual benefits of the nutrients.
Take 2 capsules per day after food. They may be taken together or divided out by taking 1 capsule after a meal twice a day.
Do not exceed the recommended dosage unless directed by a healthcare practitioner.

We don't recommend taking them while pregnant or breastfeeding unless directed by a healthcare practitioner.
Grow It contains a blend of vitamins, minerals and other nutrients which is suitable for most adults. However, we recommend that you check with your healthcare practitioner if you are taking prescribed medication. Some health conditions and some medications may be a factor in hair loss or hair thinning.

Hair growth has a very particular cycle, and when this is disturbed the hair becomes weak, damaged and resistant to normal growth. Many external and internal factors can disrupt the Hair Growth Cycle including over styling, hormonal changes, stress, the aging process, poor nutrition, genetics etc. A disruption to the normal Hair Growth Cycle can cause both increased shedding and slower, weaker regrowth, leading to thin and wispy hair. Supporting this Hair Growth Cycle is important to help with normal hair growth. Therefore we recommend that people take it for 6 months or more in order to give the nutrients in Grow It a chance to work along with a healthy balanced diet and lifestyle. Many users notice a difference in 3 to 4 months.

Please check with your healthcare practitioner or Nutritionist who can check the amounts of overlapping nutrients in other supplements you may be taking and tailor the advice to suit your overall needs.

We're proud to say that Grow It is made to the highest quality in Ireland so it's always fresh.

Yes, both men and women can take Grow It. Please note that it may not help if hair loss is due to inherited male pattern baldness.

Yes, we purposely set out to create a premium product that is suitable for Vegans.

No we deliberately avoided using fillers. The nutrients are in a natural nutritious Greens base of Spirulina, Wheatgrass, Barleygrass and Chlorella.
We don't recommend this supplement for under 18's.
Menopause
My hair had gotten very thin and sparse, started taking these tablets and already after just 1.5 months I have regrowth....delighted
Very good service
As I have only been taking this product for 11 days, it is far too early to comment on the results, but of course I'm hopeful 🤞!
Service from this company is very good, and I don't think the price is bad, if it works.
Good
Too early to tell as still on my second bottle. Hair seems thicker so worth continuing
Happy customer
Brilliant product. My hair is thicker, and I am not losing so much, thankfully.
Brilliant supplement!
I am in shock by how well this is working on my hair! The amount of baby hair I am getting is getting out of control but that's a good complaint :) My hair is noticeably thicker and healthier-looking. I definitely recommend Grow it!